Almost everywhere you go, there is a constant reminder of the ever so on-going pandemic of 2020. COVID-19 is one of the greatest challenges modern society has faced in centuries and limits our social interactions, both in our private lives, but also at work. Many of us have been forced to work from home and have lost some of the social interactions so important to us.
Many offices experience their staff members' full absence, but what if some of your staff members can come to the office while maintaining adequate social distancing – and how can a manager control this process?
Bosbec has developed a tool for managers, and other administrative personnel, to keep track of who in their staff wish to be at the office on specific days and decide who can come to the office according to their requests. This can be done while not jeopardizing the restrictions regarding social distancing.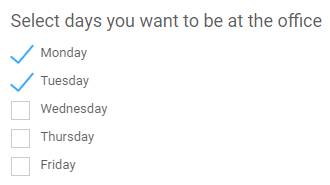 Through Bosbecs administrative interface, accessible anywhere through the web, the manager can send out a form to the staff manually or have it sent automatically at a scheduled date. A staff member then submits this form, specifying the days they want to be at the office. All the replies are then presented in a table, providing a clear overview of the staff members that wish, and can, be at the office.

If it happens that the amount of people that wish to be at the office is exceeding the set limits, the staff member can choose to request permission to come to the office anyway. A control group (perhaps consisting of the manager, administrative personnel, or HR) is notified of the request and can then approve or deny the request. Important to note is that this feature is optional, and the service can easily be customized without it.
The flow of this process can be altered and tweaked according to your organization's needs, and all of the service's functionalities can be accessed and modified in the Bosbec Workflow Builder.
The impact of COVID-19 doesn't necessarily have to be merely physical. With the help of each other and of digital solutions, we can also tackle the mental impacts – solitude and monotony can be remedied. We do our best to let our fellow co-workers achieve the important social aspects of their day-to-day life, promote well-being for each other, and overcome this shroud of menace.
Use Help as a resource to learn how to build, and do not hesitate to contact support@bosbec.com to get answers to questions and thoughts when you build your solutions in workflow builder!
Get started by signing up for a free account today!
Sign up