Introduction
Over the last few decades, all businesses have experienced mounting performance pressure. So far, response to that pressure has been cumbersome and unsuccessful. If we're going to turn that pressure into opportunity, we need to rethink everything, including the models that have driven success in the past. The technology ecosystem is always changing, making it imperative for businesses to embrace new technologies available to them. However, many organizations rely on legacy technology to run their operations making it extremely difficult to make the transition to a more modern and innovative system. Radar has found that one of the most unique solutions to be able to drive digitalization and transformation given the challenges with integrating or moving legacy is through workflows running in a cloud environment.
The customer challenges
Most IT-decision makers struggle to understand the complexity of their own IT landscape – how the myriad of applications and systems interrelate and support the business. And it is getting worse. The globalization accelerates mergers & acquisitions, the way IT is produced becomes more distributed with clouds and outsourced solutions, the way IT is delivered is in shift from centralized over to more decentralized when innovation and business values drives IT excellence, rapid deployment of applications and services is becoming more key to success as well as increasing external regulations accelerate the change. This creates the new reality of IT, "The new normal".
To survive and thrive in today's increasingly complex and dynamic environment, businesses need an IT organization that supports their objectives while being flexible and responsive enough to adapt as needed. This is created by balance between change and stability. Ultimately, the best route is always to have the ability to handle change.
Change will challenge through three major perspectives:
The legacy challenge
Moving existing legacy systems to cloud platforms is a difficult and high cost process that may involve technical and non-technical resources and challenges. The effect of the reality behind how IT is supported, managed and governed today is that in 67 percent of all projects are failing due to decisions or impacts from outside the isolated project view. Legacy is hampering possibilities and more than 90 percent of all IT-decision makers consider that legacy systems are impeding transformation in their organizations.

There are three strategic ways to tackle the "legacy system" problem:
To Refactor:
The legacy system is gradually restructured. When a new change is to be made, a timeframe is planned to refactor the affected parts of the system to ensure that the changes will not harm the existing processes.
To Rewrite:
A completely new system is being developed from the ground up with a plan to eventually migrate all existing users of the legacy system to the new one.
To Retire:
The active development of new features ceases and the legacy system is switched to a "maintenance only" mode, when only critical bug fixes are released.
There is no single solution that fits all and a particular approach can be applied depending on existing business needs. Although "rewriting" the system may seem easier than refactoring there are strong arguments against it. It is a risky endeavor with a long and not-well-predictable timeframe to complete. Generally Radar believe that the "refactoring" approach should be the first option to consider and to work the restructuring gradually in smaller pieces.
The re-design or work around challenge
Given the present transformation pressure and pace in technology change all organizations must be able to re-design or re-engineer processes. Today this comes at high risk and cost. Although traditional Business Process Reengineering (BPR) is a necessity it comes with many pitfalls. One is the risk associated with reengineering to many steps. Another is the lack of competence to perform the task and time wasted in the process besides the more obvious high cost and high risk as in most IT projects.
In all too many companies, reengineering has been not only a great success but also a great failure. To succeed you need to focus on both breadth and depth of the project. You must first identify the activities to include in the process being redesigned that are critical for value creation in the overall business unit. A process can be as narrowly defined as a single activity in a single function or as broadly defined as the entire business system for the business unit – Breadth.
The successful redesign of a broad process requires the complete restructuring of the key drivers of behavior so that actual results measure up to the redesign plan on paper -Depth. Even with sufficient breadth and depth, a reengineering project will fail without the full commitment of senior executives.
Re-design will be a real challenge unless you can create smaller bits – workflows – to focus on and build step by step.
The innovation challenge
The discussion on how technology is transforming business often focuses on the size of the data stock – to the exclusion of how we might interact with it to further larger business aims.
Harnessing these data flows requires new tools, techniques, and business models – elements arising in several economic sectors. One of the most recent is the Internet of Things (IoT), a connected network of physical devices, sensors, and software that enable physical objects to collect and exchange data. This network is already generating large, complex real-time data flows – and serving as the basis for a generation of businesses dedicated to creating and capturing value in new ways.
But the value of flows, and their impact, transcends IoT. Ultimately, the value of data in such a format lies in analyzing flows in order to detect, and act on, emerging patterns in real time. Whoever can build models and workflows that leverages data flows most effectively and creatively will have the opportunity to create a lot of value. The richer the flows – and the more diverse the analytics brought to bear on them – the more companies can learn, and the larger and more fundamental the changes and opportunities that will result.
Innovation is not only about creating new things. Much of today's innovation comes from integrating new technology or data, relations or transactions in different industry specific flows. Most organizations would therefore benefit from using a data centric workflow engine to test, adjust and launch flows from.
The Bosbec solution
A Low Code workflow engine gives the benefits of establishing workflows that re-design workflows or innovate workflows as well as to run them in a modern cloud environment. A modern, digital and speedy alternative at low risk and cost compared to migration or re-development undertakings.
A low code workflow engine addresses all the end customer challenges effectively, at low risk and without investments to be made. It gives the benefits of establishing workflows that re-design, innovate or improve legacy processes in a modern cloud environment. A modern and digital alternative with unique time to market features at low risk and cost compared to huge migration or development undertakings.
A low code platform is always more seamless and easy to use. There exist several alternative SaaS solutions in the workflow engine space but we are only comparing those that empower users to both run workflows as well as create them. We have compared model-driven execution platform solutions. In this case, the visual application creation environment generates an intermediate domain-specific representation of the application in question which the platform interprets and executes at runtime.
Radar has compared the solutions with the largest penetration in creating and running workflow in the cloud on the Nordic market. They are Zapier, MS Flow, IFTTT and Bosbec.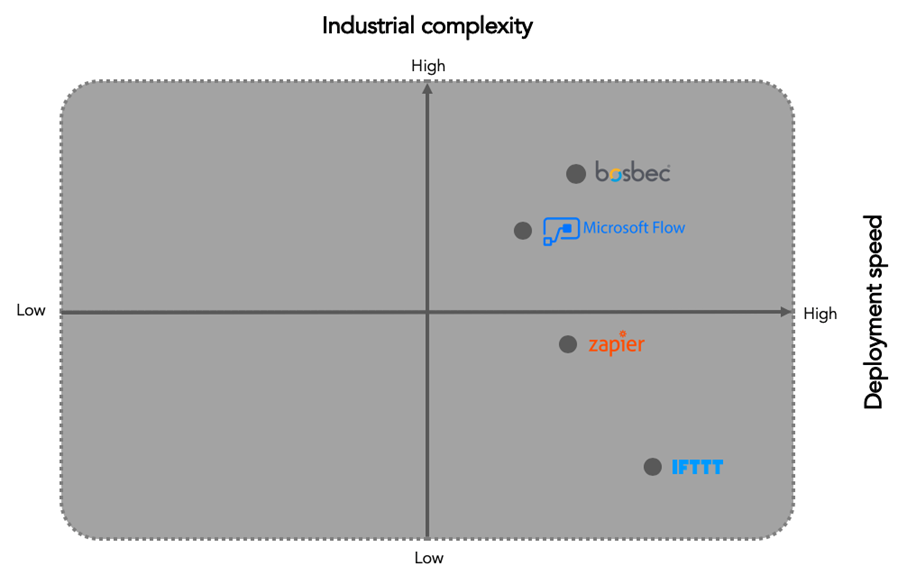 This whilst the other three have more focus on workplace flows. Bosbec is therefore better fit both to meet the legacy, re-design as well as innovation challenges.
The customer value
Customers regardless of industry, geography or nation face the same principal IT challenge: to reduce cost and resources in IT operations in order to free capital to drive business innovation and transformation. Understanding the IT landscape, which technologies and resources that are available to support such transition must today be a strategic priority for all.
Radar has found in research that the most profitable organizations, independent on industry, are those that have better than benchmark performance in utilizing IT spend to produce and deliver standard IT. They all show evidence of a higher utilization of SaaS as well as Cloud in delivery and production of the IT portfolio. Given the present pace in industrialization of IT it´s Radars view that in order to obtain IT-leadership an organization need to spend 50 percent of the IT spend on production and optimization of IT and the remaining 50 percent on transformation and innovation. That means to move away from today's 76 percent spend on managing, delivering and optimizing IT with a 24 percent contribution to innovation on average over to a 50/50 percent ratio in a couple of years. In order to do that an IT-organization needs efficient tools to move away from cost drivers as well as increasing the use of Cloud in production environment.
The value of using a low code workflow engine for an organization is evident. The values will be obtained both in the cost structure as well as in efficiency in innovation processes. Given the present challenges and merely focusing on the legacy and work-around possibility a solution like Bosbec will address the following cost elements in an IT-budget:
Managing IT – from today's 59% down to 50%
Optimizing IT – from today's 17% down to 12%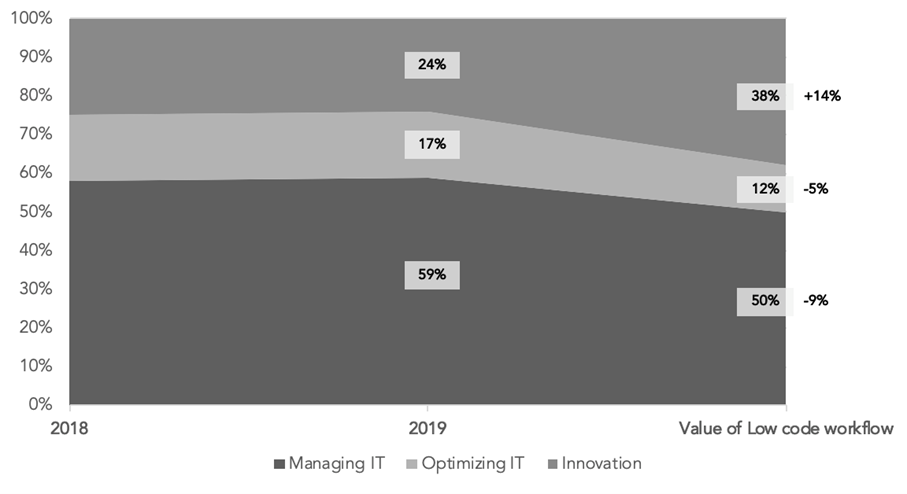 IT driven innovation is to be made in the landscape between IT and the business. In order to achieve that an organization will need tools to prototype, test, change etc as well as the culture and organization to handle such a different process. A low code workflow engine will increase efficiency in innovation and transformation and provide exactly such a tool to support both the business as well as IT in the process. Given the present innovation and digitalization challenges an organization using a solution like Bosbec will achieve much higher efficiency and speed in the innovation processes. It is Radars opinion that an organization that will put a low code workflow engine in use should be able to experience a 14 percent reduction of managing and optimizing IT and a more efficient and transformed innovation through IT from 24 to 38 percent.