An API, Application Programming Interface, allows two systems to communicate with each other and serves as a vital building block in modern applications. There are several ways of how an IT business can monitor their APIs and how this surveillance is conducted could be the difference between uptime or a complete service outage. For the function of any companies' software – API monitoring needs to be ensured.
How do you monitor your APIs? In the case of an outage or an API alarm, how do you efficiently notify your team? An API incident needs to be managed swiftly and structured. Task assignment, team communication means, and confirmations are important to resolve any incidents within your organization. Wouldn't it be easier to gather all incident management in one tool?
With the Bosbec platform you can combine your API-monitoring with your incident management in one platform. Using the Bosbec Workflow Builder you can build your own API heartbeat monitoring or use pre-defined templates to quickly get started.
Logging the response time from an API enables interesting functionalities in Bosbec WE, the software engine of our systems. The data management in Bosbec WE will calculate an average of the latest responses. Say, if two responses in a row exceeds your limit of a response time with 20% – alarm your team members!
Connect your team to the Bosbec platform to manage and organize your staff. Now, your team can be notified by your API monitoring system. Send out task assignments, start group chats and log all the activity regarding your incident. Structure your team in groups or dynamic groups, which update on states and tags. A colleague is on vacation and doesn't want to receive a notification? No problem, update your colleagues state to update the dynamic group and filter your mailings.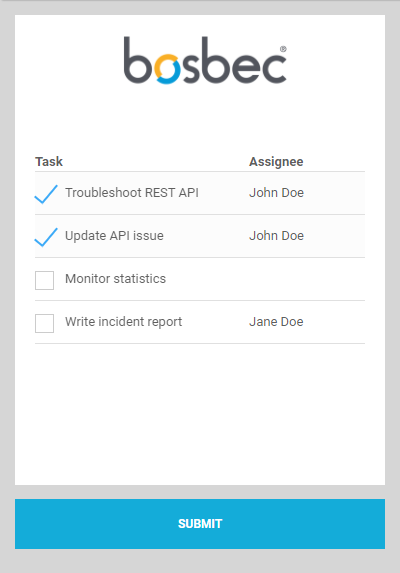 Bosbec Workflow Builder is a low-code development platform used to create customized and automized IT-solutions. You can add additional monitoring services or staffing management to your already existing solution. We encourage your ideas of how to improve your business and will happily guide you through your development. Contact our support team and we'll help you get started!
Get started by signing up for a free account today!
Sign up